August 2023: AirVenture Recap, New Incoming Aircraft & More!
01 / AirVenture '23 Recap

02 / New Incoming Aircraft

03 / In Focus: Meet Nina Gorina, KBED Ambassador
04 / Pro-Tip by Ann Story
05 /Save the Date! Props & Hops at KPYM
01 / 
AirVenture '23 Recap!
What a week. Over 677,000 people (and 10,000 airplanes) attended AirVenture in Oshkosh, WI this past July. The Goulian Airshows team was there to work with its sponsor, Whelen Aerospace Technologies ("WAT" – you know, those awesome lights on the Cirrus you fly), and also to support our very own Mike Goulian with his airshow performance. We had time to visit with a group of our wonderful MGAV pilot customers and instructors who visited our hospitality area with a great view of the airshow.

We love having the opportunity for the Mike Goulian Aviation and Mike Goulian Airshows worlds to collide at events like AirVenture, so this was a very special week for us! Among two outstanding night airshows, getting to see new and old friends, lots of laughs, food and flying, there is no better way to spend AirVenture! Talk about the #CirrusLife!

We would LOVE to see more of our customers enjoy the pilgrimage to AirVenture Oshkosh next year. It's an event that simply needs to be experienced to be believed. We're already planning for 2024 so if you think you might have an interest in joining our MGAV team in Oshkosh '24, just let Ben Acker know.  Until next year OSH…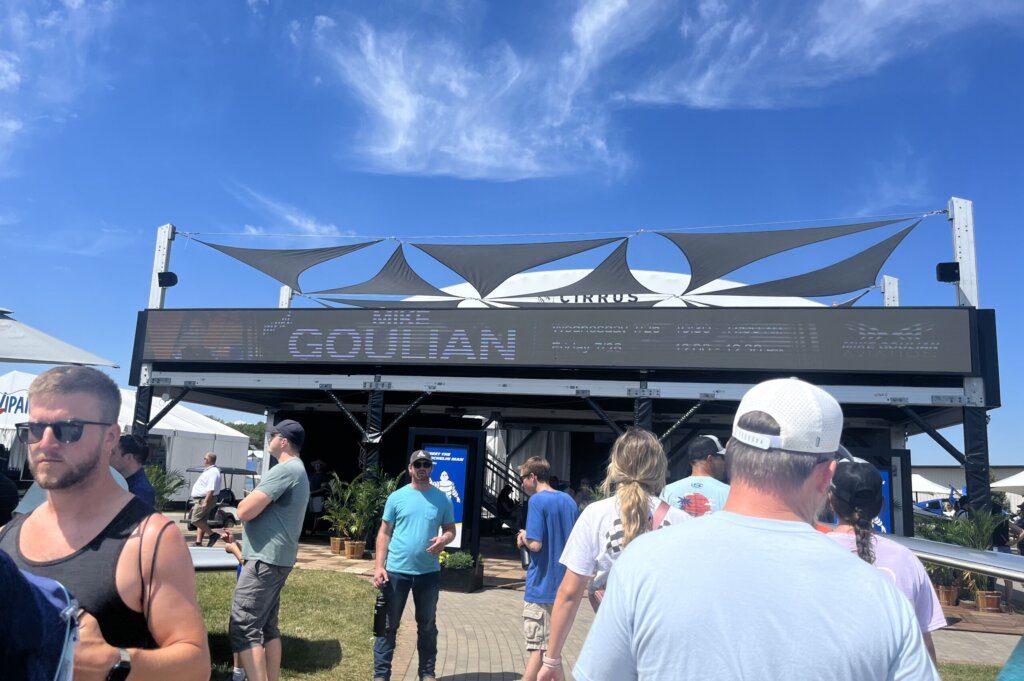 Meet the Goulian Aerosports Team – who all work out of KPYM! From left to right:
Kevin Kotce (Tractor-Trailer Driver), Ryan Tierney (Ferry Pilot & MGAV Upset Training Instructor), Hannah Smith (A&P Mechanic), Danika Bedrick (Team Coordinator), Karin Goulian, Max Mortell (Cirrus Regional Sales Director), Levi Fischer (A&P Mechanic & MGAV Director of Maintenance) and Steve Fiegel (Ferry Pilot and MGAV Upset Training Pilot)
02 / 
NEW INCOMING AIRCRAFT
Welcome to the fleet, N168DJ!
Please welcome to the Mike Goulian Aviation fleet N168DJ: a brand new 2023 G6 SR20. This beautiful SR20 is now available for instruction and rental in Bedford.
03 / 
IN-FOCUS
Meet Nina Gorina, KBED Ambassador & Customer Service Representative
Nina, a marketing professional with a rich history of global travel, moved to the US in 2022. She started her private pilot training in New England in September, joining Mike Goulian Aviation in March of 2023.
Nina's aspiration is to transition into commercial piloting with Med Flight. She has already begun to realize this dream, having recently completed her first solo cross-country flight.
With a career spanning across advertising agencies to IT development teams, and now aviation, Nina is poised to bring her diverse experiences to her new journey in aviation. As someone who has always embraced challenges and pursued her passions, she is excited about her future with MGAV and we are excited to have Nina as part of our team.
05 / 
SAVE THE DATE
Plymouth Aero Club Presents
Props & Hops
Join the Plymouth Aero Club at the Plymouth Airport for a fun-filled Saturday afternoon. Stroll along a fun display unusual aircraft and helicopters . Enjoy the live music from "That 80's Band". Singer Morgan and the band feature dance, rock, pop, new wave and big hair songs that everyone knows. Plymouth craft breweries, Mayflower Brewing & Indie Ferm Brewing Co.  will feature their local favorites. A variety or food trucks,  raffles, airplane rides ($45/person) & more! If you know of any aspiring aviators, this will be a great intro to aviation. Fly in or drive in. If you fly in there will be space to park on the north east ramp.

Bring lawn chairs to watch the band.

$10/person in advance, $15/person at the door. Kids 10 and under are free. Free parking.

When: Saturday, September 9th 3pm – 7pm
Where: On the ramp in front of the Administration Building, Plymouth Airport, Plymouth, MA 
Phone: 774-404-3899 
Email: propsandhops@plymouthairshow.com
Website: plymouthpropsandhops.com