November 2022: New SR22, Meet CFII Jim Allen & More!
Mike Goulian Aviation is growing and so is our beautiful fleet of Cirrus Aircraft!

Mike Goulian Aviation is happy to welcome another 2022 SR22 to our Bedford fleet. Starting in mid-December, this gorgeous Titan Grey aircraft, N100GT, will be available for rental and pilot training. Our fleet is made up of only the latest G6 Cirrus pistons; 6 of them are brand new 2022 models!

This 2022 SR22 has everything you need to get you where you need to be. To schedule time in N100GT or one of our other beautiful aircraft, reach out to our Flight Training Advisor, Ben via email, ben@mikegoulianaviation.com or by calling (774) 283-1825.
Treat your aspiring pilot, transitioning pilot or soon-to-be IFR pilot to a MGAV gift card!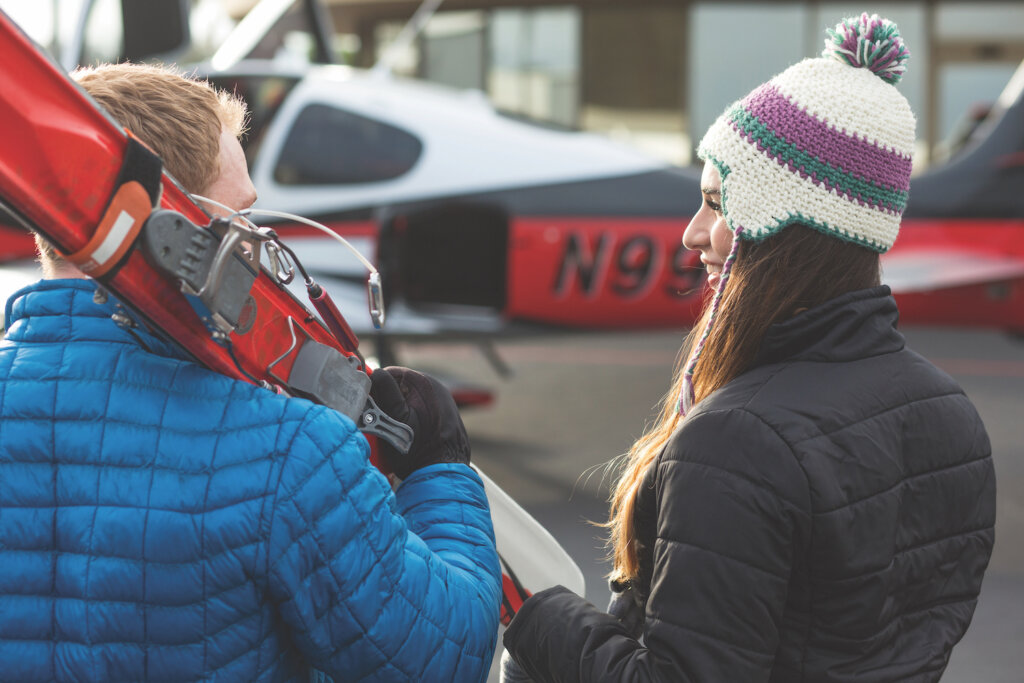 MGAV gift cards are currently available for purchase online here! In addition to gift cards, all three of our locations are stocked with gear to take your #CirrusLife to the next level. Stop by KPYM, KBED or KLCI to check out some of our awesome merch. We've recently added some winter attire to keep you warm on all your adventures – and more to come soon!
Have you met Laconia's newest CFII, Jim Allen?
Though Jim grew up in Pennsylvania, and went to school in Rochester, NY, he has close connections with New England. He was born on the New London Naval Station in Groton, CT. His mother and father grew up in Westford, MA and Dorchester, MA respectively. His maternal grandparents retired to Hebron, NH resulting in many fun winter and summer weeks visiting them.
James joins us after a twenty year Naval flying career in which he experienced both time at sea, and in the desert. Such has given him a peculiar appreciation for the green scenery and clear waters of New Hampshire. James has enjoyed flying most of his life and is glad to have the opportunity to share his unique experience, skills, and passion with our clients at MGAV. 
James brings with him an ATP, MEI, CFII, a glider rating and a floatplane qualification. With 1700 hours in a F/A-18 Hornet and over 3000 sorties, he has many stories to tell. He is s a graduate of the Air Force Test Pilot School. A "One Cruise Wonder," he brings with him a mere 210 "Traps" aka Carrier Arrested Landings – though he has touched multiple aircraft carriers including The Enterprise (CVN-65), The George Washington (CVN-73), The Truman (CVN-75), The Eisenhower (CVN-69), and The Stennis (CVN-74). Though not flying from them, he has some time aboard The Wasp and The French Ship Mistral. No, he does not speak French. With that, let's try to remind Jim that we flare in our landings here at MGAV and there is no tailhook.
Pro-Tip of the Month by CFII Cameron Ditto
Putting Yourself in Airplane Mode
Mental fitness for flight may be one of the key factors to having a successful flight, but so often it is overlooked by other factors. Being both mentally prepared for the flight ahead and having the proper mindset as you step out to the aircraft for a flight can make all the difference between a successful flight and one that does not measure up to standards.

Read Cameron's full pro-tip here!