October 2022: Adventure Trip, Pro Tip & Meet Helena, MGAV Student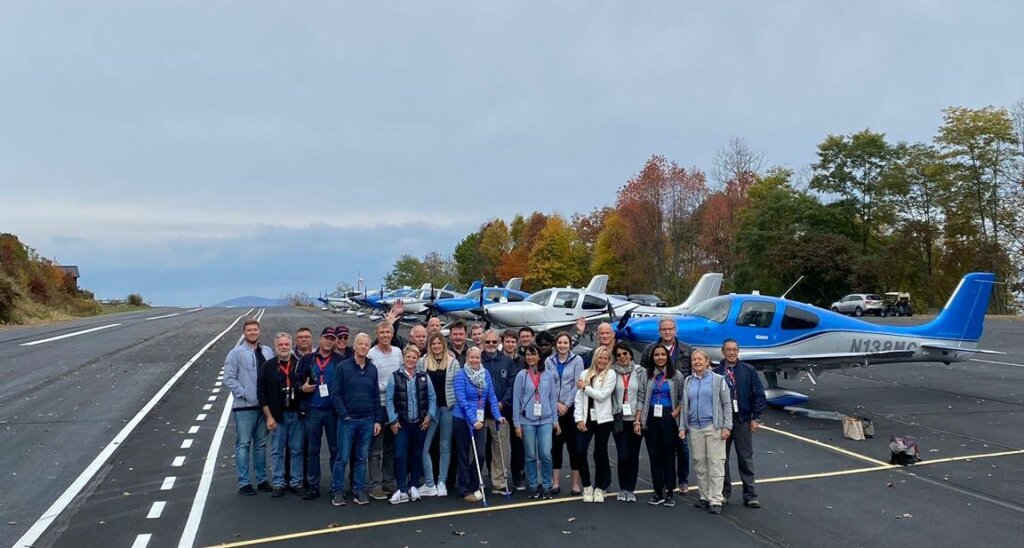 The Mike Goulian Aviation team was honored to host and guide a group of European pilots on an east coast flying adventure which is what most people would say is a perfect example of the #CirrusLife. Conceived by Jan-Peter Fischer (Director of Cirrus Germany, CFII, Platinum CSIP) and Thomas Borchert (Editor in Chief of fliegermagazin), the trip was intended to be the ultimate demonstration of the #CirrusLife and wow did it meet all expectations. 18 adventurous German pilots crossed the Atlantic, were paired with our TCIs and CSIPs, rented nine of our SR22s and took off on a whirlwind trip up and down the east coast. 

Though all of the participants were pilots, they had varying degrees of Cirrus experience so everyone had the opportunity to learn more about the Cirrus platform and experience all the benefits that flying a Cirrus has to offer.

After spending their first night on Nantucket, the group ventured down the Hudson Corridor, then flew into Dulles International Airport where everyone spent the afternoon at the Air & Space Museum. Day two concluded with a fantastic dinner in downtown Washington DC.

The next morning saw the "flight of nine" take off and continue down the coast with a landing at First Flight in North Carolina, where everyone had the opportunity to see where the Wright Brothers first flew. First Flight is a bucket list item for any pilot so it was a very special afternoon for everyone.

After another spectacular evening of fun and story telling, the whole gang was off the next morning to Mountain Air in North Carolina for lunch. If you don't know about Mountain Air, look it up. The approach and landing on top of the mountain is a challenge which the team were all ready for, so a safe trip to this iconic US airport was enjoyed by all.

The 5 day trip culminated in a northern New England tour for the ultimate leaf peeping experience.The group spent one night in North Adams, MA and the next night in Laconia, NH where everyone was able to experience the autumn colors. The final night was spent in Bar Harbor, ME where everyone had a lobster boat tour.  

After the planes all landed back at Plymouth, everyone met for a going away dinner at the Capital Grill in Boston. Stories were told and laughs were had as everyone reminisced about the amazing flying experience. Lifetime friendships and amazing memories were made and there are already plans to do something similar in 2024. 

It was such a pleasure for MGAV to give our new European family the opportunity to experience the Cirrus but also see a part of the US from the air which is truly special. The trip was such a success that the MGAV team is going to do a few trips a year with our own family of clients. If possible, we might even start with a Bahama's trip this February. Please let us know if you might be interested in joining us.  
If you're interested in an Adventure Trip to the Bahamas this February, please let us know! Below is a short questionnaire that will help us better understand what your particular desires for a trip like this might be. Please fill it out if you have two extra minutes.
Have you met learning pilot and proud Cirrus owner, Helena D'Angelo?
Helena, a Weston, MA resident, took a 'steep' turn in her aviation journey and made the decision to purchase her very own Cirrus aircraft after being completely bitten by the aviation bug after attending her first EAA AirVenture Oshkosh Convention this past July. 

Helena once used charter flights as a means of transportation, until one day she realized, "Every time we landed, I felt the best part of the trip was over." She was introduced to the Cirrus aircraft and Mike Goulian Aviation through Neil Paris, who some may know better as "Romeo" from the Boston FM station, Kiss 108 (Fun fact: He is also a pilot!) suggesting MGAV as one of the best places to learn in a Cirrus.
 
The journey towards her Private Pilot Certificate started the week she became an empty nester. With two daughters, one 18 at boarding school and the other, 20 at college, "I decided this bird had to fly the nest also." Not having the time beforehand, this presented itself as the perfect opportunity.
 
For Helena, her decision to purchase her own Cirrus was quite simple, but motivated. "The promise it holds, the promise I made to myself to become a licensed pilot and to get both my VFR and IFR certificates and the promise of knowing one day I'll be able to confidently, safely and fluidly operate the airplane and fly myself to all kinds of amazing places."
 
The process of buying your own aircraft may seem daunting, but Helena explains it was rather seamless. While there is much to learn about buying your own aircraft, she said she had "Lots of great support and communication at MGAV, between Levi (A&P Mechanic) and Karin (Owner), they were tremendously helpful," adding she was well informed every step of the way and could count on MGAV to answer any questions she had.
 
While Helena continues to fly with CSIP Shelby, her favorite part is "the challenge of flying and the peace it brings me, where I'm completely unreachable," as well as spending time in the cockpit with an awesome instructor and developing a great friendship with Shelby. When Helena is set to hit the skies on her own, her top places to travel will be Stowe, VT where she owns a second home and loves to ski. Vail, CO, Nashville, TN and Oshkosh, WI, are also on her aviation "bucket list" adventure locations. 

Helena, congrats on your beautiful Cirrus and best of luck in all your flying endeavors! We're thrilled to be your co-pilot! 
#TwoMaidensOnAMaidenVoyage to Oshkosh, WI!
Pro-Tip of the Month by CFII Chris Porter
A Conversation With Your Wing
Being in conversation with your wing, understanding how hard the wing is working and how much harder it could work will enhance your ability to control the airplane safely and efficiently.

Learn how to use the elevator to your advantage and read "A Conversation With Your Wing" on the "read more" link!
Chris' pro tip is focused around the unusual attitude training course he does in the Extra 330LX.

Here is Chris and Ben, our flight training advisor, taking the Extra 330LX for a spin!

(Yes, they are upside down.
Yes, Ben made it out O.K.)